Raised Single Pyramid Dog Diner
Get yours now!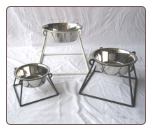 Click to enlarge image(s)

Raised Single Pyramid Dog Diner
Do you need a dog diner that's sturdy and difficult to overturn? Your pyramid single dog diner is an elevated dog diner with a square base design that reduces the possibility of spills.
Did you know that raised pet feeders are recommended by animal doctors? Your raised pyramid diner helps to reduce the stress that dogs and cats feel when they are fed from conventional floor-level dog/pet bowls.
Available in small. medium, large and extra large options, the wrought iron stand of your dog feeder is powder coated in black. silver moon and white colors. This unique yet simple design makes the diner very stable and will complement any color scheme in your home decor.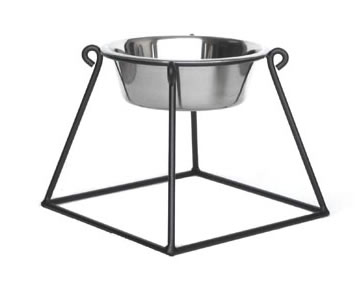 Large 10" black pyramid stand w/ stainless steel bowl
The stainleass steel bowl is the standard bowl with the pyramid single diner but you also have the option to select colorful ceramic dog bowls. These ceramic bowls are made to order and are only available with the small and medium size diners.
So make your order with confidence. Remember the elevated pyramid dog diner helps to keep your dog feeding station clean and dogs are less tempted to push it around the floor.
Colored ceramic dog bowls for the raised dog diner.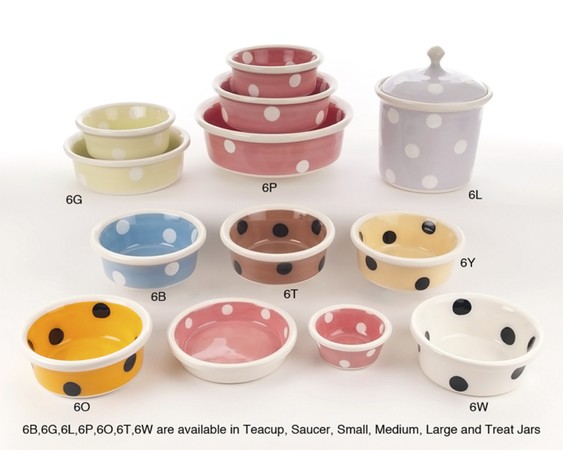 Various dog bowl colors for the single pyramid dog diner
Pet owners with stiff muscles and sore joints will no longer have to bend all the way down to pick up the dog bowl!!
Dimensions of Raised Pyramid Single Dog Diner

Small: 7.25" x 7.25" x 5" tall - 2 lbs.
Medium: 10" x 10" x 7" tall - 3 lbs.
Large: 12.5" x 12.5" x 10" tall - 4 lbs.
Click this link to select the XLarge 18" tall pyramid dog diner
| | |
| --- | --- |
| Sml pyramid dog diner | 7.25" x 7.25" x 5" high - 2 lbs |
| Med pyramid dog diner | 10" x 10" x 7" high - 3 lbs |
| LG pyramid dog diner | 12.5" x 12.5" x 10" high - 4 lbs |
| XL pyramid dog diner | 12.25" x 12.25" x 18" tall - 6 lbs. |
| | |
| --- | --- |
| Unique design with square base | Stable diner not easily overturned |
| Non chewable dog diner | Durable diner |
| Dog bowls are dishwasher safe | Easy to clean dog diner |