Door Panel for Freestanding Dog Gate
Get yours today!!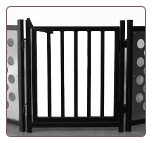 Click to enlarge image(s)
Door Panel for Freestanding Dog Gate

$64.75

So you just need a door panel to attach to your already freestanding dog gate? Your dog door panel (pictured above) is easily installed and is the perfect door panel for freestanding dog gates.
It is a one-panel, walk-thru door that works well with our extremely popular Royal Weave Freestanding Metal Dog Gate.
Mostly used with indoor dog gates, your door panel is available in small and extra large variations. The small dog door panel measures 24' tall x 21" wide and the XL measures 33" tall x 28" wide.

When combined with 1 set of our small freestanding gates, the resulting three panel unit covers 58". Your dog door panel is also an excellent complement for our Polka Gates.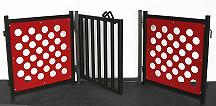 Dog door panel with freestanding red polka dog gate
Want to expand your freestanding dog gate? This dog door panel allows you to increase the areas of restricted access. Just add one dog door panel to get a wider coverage.
Here is another example of how you can set up your dog door panel with multiple freestanding dog gate units.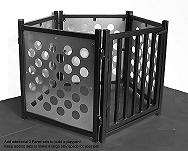 Dog door panel with multiple freestanding dog polka gate units
Wherever there is a need, your portable dog panel can be combined with the freestanding dog gate. The latch on the panel locks down snugly so your dog will not open the door panel and escape.
So now you simply open the dog door panel and walk through the dog gate barrier or through the dog playpen. Wherever you place the dog gate, your portable dog door panel will fit.
The small and XL dog door panels weigh 9 lbs. & 22 lbs. respectively.
| | |
| --- | --- |
| Dimensions of freestanding door panel: | Small 21"x24" tall; XL - 28"X33" tall |
| Weight of dog door panel: | Small - 9 lbs; XL - 22 lbs. |
| | |
| --- | --- |
| Walk-thru one panel dog door | Increases the areas of restricted access |
| Small and XLarge sizes available | Will fit most freestanding dog gates |
| Secure door latch on the dog door panel | Your dog will remain in her designated area |
| Portable dog door | Easy to set up wherever you want |