Extra Wide Freestanding Dog Gate
Great Deal!!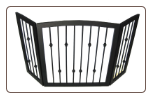 Click to enlarge image(s)
Extra Wide Freestanding Dog Gate
$279.95 Reg.
$229.95 SALE

Always wanted an extra wide indoor freestanding dog gate? Take a look at this large triple panel iron pet gate. It is the tall dog gate (38 inches) that dog owners call the perfect indoor dog gate.
Your extra large dog gate weighs 27 lbs which makes it an effective barrier for even your biggest dog. The trifold panel design allows you to restrict access to the widest hallways.
It is a large expandable and portable dog pet gate with rubber stoppers to prevent scratching of your floors. So whether you have big dogs or you have large areas to restrict access, your dog gate can be expanded to 56" wide.
The attractive emperor rings on the bars of your freestanding iron dog gate will certainly enhance the decor in your home.
The frontal view of your tall (38") extra wide and expandable (36" to 56" wide) dog barrier gate is shown below. The panels on this dog gate fold inwards for easy storage.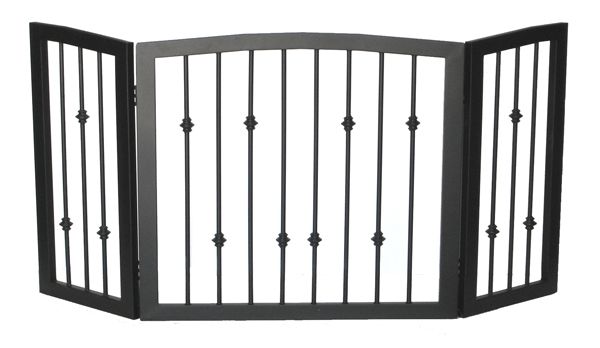 Frontal view of extra wide freestanding dog barrier gate
The dimensions for your emperor rings freestanding extra wide dog gate are shown below the order box.
| | |
| --- | --- |
| Weight of extra wide dog gate: | 27 lbs |
| Height of tall dog gate: | 38" |
| Width of expandable dog gate: | 36" to 56" |
| Distance between bars on dog gate: | 2 1/4 inches |
| Middle panel: | 35.5" |
| Side panels: | 16.5" each |
| | |
| --- | --- |
| Sturdy dog gate weighs 27 lbs | Difficult for dog to push around |
| Extra wide black dog gate up to 56" | Restricts access to wide areas |
| Attractive emperor rings on the bars | Enhances your home decor |
| Iron pet gate with rubber support | Prevents floor scratching |
| Triple panel dog gate | Folds inward easily for storage |