Designer "Bunny Hoddie" Dog Jacket
Get Yours Now!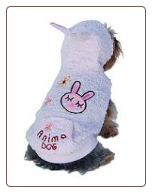 Click to enlarge image(s)
$37.95 Reg.
$18.97 SALE
CLEARANCE
Designer Bunny Hoodie Dog Coat



Fantastic dog clothing!! This is a fluffy and adorable bunny hoodie dog coat that brings out your pet dog's natural charm.
This dog jacket with its bunny hoodie is a dog coat that provides superb comfort. Made in luxurious style, your dog hoodie coat jacket is lined on the inside with a satin fabric and star prints.

Your designer dog jacket is available as a pink hoodie dog coat that is a sure attention-grabber. The five sizes of this designer dog coat range from extra extra small dog jackets to large dog jackets.
If your designer dog clothing search includes a pink upscale designer dog coat , this is the perfect designer dog jacket with matching hoodie.
Made from fine wool blended with cotton, this dog jacket keeps your dog warm. Your dog coat has buttons at the front for a secure fit.
This pink designer dog coat is a beautiful and attractive designer dog hoodie jacket.
See your pink designer hoodie dog jacket below with bunny appliques and floral embroidery.
Designer "Bunny Hoodie" Dog Jacket - Pink
| | | | | |
| --- | --- | --- | --- | --- |
| Designer Dog Coat | Length (inches) | Girth (inches) | Neck (inches) | Weight (pounds) |
| Extra small dog coat | 7.9 | 12.0 | 7.9 | 1.7 - 4.4 |
| Small dog coat | 9.8 | 14.0 | 9.5 | 4.4 - 7.0 |
| Medium dog coat | 11.8 | 16.5 | 11.0 | 7.0 - 10.5 |
| Large dog coat | 13.8 | 18.9 | 12.6 | 10.5 - 15.4 |
| | |
| --- | --- |
| XXS dog coat: | 7.9" Length x 12.0" Girth x 7.9" Neck (up to 4.4 pounds) |
| XS dog coat: | 9.8" Length x 14.0" Girth x 9.5" Neck ( up to 7.0 pounds) |
| Sml dog coat: | 11.8" Length x 16.5" Girth x 11.0" Neck (up to 10.5 pounds) |
| Med dog coat: | 13.8" Length x 18.9" Girth x 12.6" Neck (up to 15.4 pounds) |
| LG dog coat: | 15.0" Length x 21.5" Girth x 14.0" Neck (up to 24.0 pounds) |
| | |
| --- | --- |
| Wool/cotton blend for your dog coat | Keeps your dog warm |
| Satiny fabric w/star prints lining on the inside | Luxurious & smooth surface for a comfortable wear |
| Bunny appliques on your dog coat | Eye catching and appealing |
| Floral embroidery on your dog coat | Decorative and blends well with the pink color |
| Front buttons on the jacket | Makes a secure fit for your dog |