Designer Dog Carrier Bag (G-Pattern)
Fetch one now!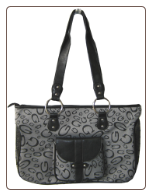 Click to enlarge image(s)
$64.99 Reg.
$52.97 SALE
Designer Dog Carrier Bag (G-Pattern)
The seasoned traveller will be so startled and pleased that this designer-style zippered tote bag carrier makes so many heads turn. Always in style and always appealing, the laminated print fabric on your dog bag is very engaging and brings a happy smile to pet owners.
The G-pattern along with the stylish buckle on your carrier bag for small dogs accentuate the faux-leather trim while the single side-pocket is a useful added feature that holds the dog treats.

The mesh window in the bag allows excellent visibility and ventilation and has zipper openings, meanwhile, there is also a zipper closure on the top of the dog carrier for added accessibility.

Your airline appproved small designer dog bag fits under airline's seat. The removable floor insert facilitates easy cleaning and your dog is secured by the interior leash attachment.

So get yours now! Whether you prefer to use your designer G-pattern laminated print fabric dog carrier bag as a shoulder bag for your dog or as a dog hand bag, your dog travel carrier is comfortable and will accomodate a dog weight up to 12 lbs.
Enlarged images of the black G-PATTERN designer dog carrier bag
The string height is 11" and the width is 2"; this designer dog carrier bag opens on two sides.
Small designer dog hand bag: 6"D x 13"W x 9"H
Large designer dog hand bag: 7"D x 16"W x 10.5"H.
| | |
| --- | --- |
| Small dog bag: | 13"x9"x6" |
| Large dog bag: | 16.5"x10"x7" |
| String Height: | 11" |
| String Width: | 2" |
| Material: | Polyester |
| Carrying Weight: | 10 lbs |
| | |
| --- | --- |
| Faux-leather trim, stylish buckle | Enhances the designer appeal |
| Laminated print fabric on dog bag | Adds a touch of glamour to your dog bag |
| Zippered top and side openings | Allows easy access for your pet |
| Airline approved dog bag | Fits under the airline's seat |
| Side pocket | Store the dog treats and accessories |
| Removable floor insert | Easy cleaning of the dog carier bag |